Women's Work Clothes, A Helter-Skelter World
WOMEN'S WORK CLOTHES,
A HELTER-SKELTER WORLD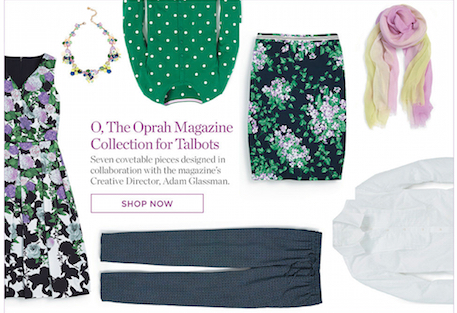 When it comes to women's work clothes,  Oprah had a shot at making it right. Sadly, she did not. Oprah recently teamed up with Talbot's to design a line of women's work clothes  done in collaboration with Dress for Success. "It's about time!," I rejoiced. Soon however, I was dismayed to find that the clothing  line was more suited for a garden party than a corporate setting: floral skirts, polka dot sweaters, and strappy sandals. The lead designer? A man. Oprah, yes even you can do better.
I recently searched for women's work clothes at leading retailers: Nordstrom, Brooks Brothers, Ann & Taylor, Lord & Taylor, and Neiman Marcus. The selections in specific workday clothes were one of two extremes: Hum-drum styling and drabby neutrals, or something that could easily be worn at a weekend social party. In other words, party girl wear. One top retailer even had blouses with shoulder sleeved cut-outs in the 9-5 workday attire section! What a startling, if not unsettling, retail phenomenon given that women make 85% of buying decisions.
Whether this helter-skelter world of women's work clothes reflects the last vestiges of "dress like a man" for success, a psychedelic stance in women's relationship with power, or a society that just doesn't know what to do with the cross sections of femininity and business acumen, how do we reconstruct our views of women's work clothes?
What To Wear, What To Wear?
When women entered the workplace in the 60's, there was the dress-like-a-man stratagem. We saw women's work clothes try to clone after men's business suits. The styling was rather nondescript and chocked with plain neutrals, a boring style that survives today. To answer the void, the Wrap dress hit the scene, made popular by Diane Von Furstenberg. Deemed a bit too sexy outré at it's debut, today the Wrap dress is rather mainstream. With the advent of micro speed technology and a brainier attitude towards dressing–the less I have to think about what to wear, the more brain power I have for business solutions–we see the monochrome wardrobe, seen by Steve Jobs CEO of Apple, Elizabeth Holmes, CEO of Theranos for the Millennials, and Angelina Jolie for the third-world humanitarians. Candidly aside, the classic movies really nailed the women's suit with a spot on blend of authority, presence, and femininity.
Women Executives in Male-Dominated Industries
These unique women executives face many challenges to succeed amongst male peers.  Finding just that right blend of executive presence that matches the company culture can be a quest. Executive presence is a melange of many factors, and work clothes that exudes credibility and distinctiveness is one. When it comes to work clothes, one theme I hear from women executives  is the confusion of what makes for executive attire and, secondly, the lack of good choices  in retail stores.  Mixed with the latter is the time crunch to shop around for "something that fits."
Women, do you find that retailers are spot on or dead wrong in the selection of work clothes?
What do you want to see in your work wardrobe that designers just don't get?
Comment below and let's hear it.